Why It Matters
In a region where every drop of water counts, the Rio Grande delivers life-giving Rocky Mountain snowmelt to diverse fish and wildlife and six million people in Colorado, New Mexico and Texas. Though diverted and drawn dry along vast reaches, the Rio's two wild and scenic segments remain some of the most spectacular stretches of river in America. It's the lifeline of Colorado's San Luis Valley and home to the West's longest continuous riparian forest, a 200-mile-long cottonwood "bosque" in New Mexico.
View the PDF
Did you know this page comes in a PDF format? Download it, print it, take it with you!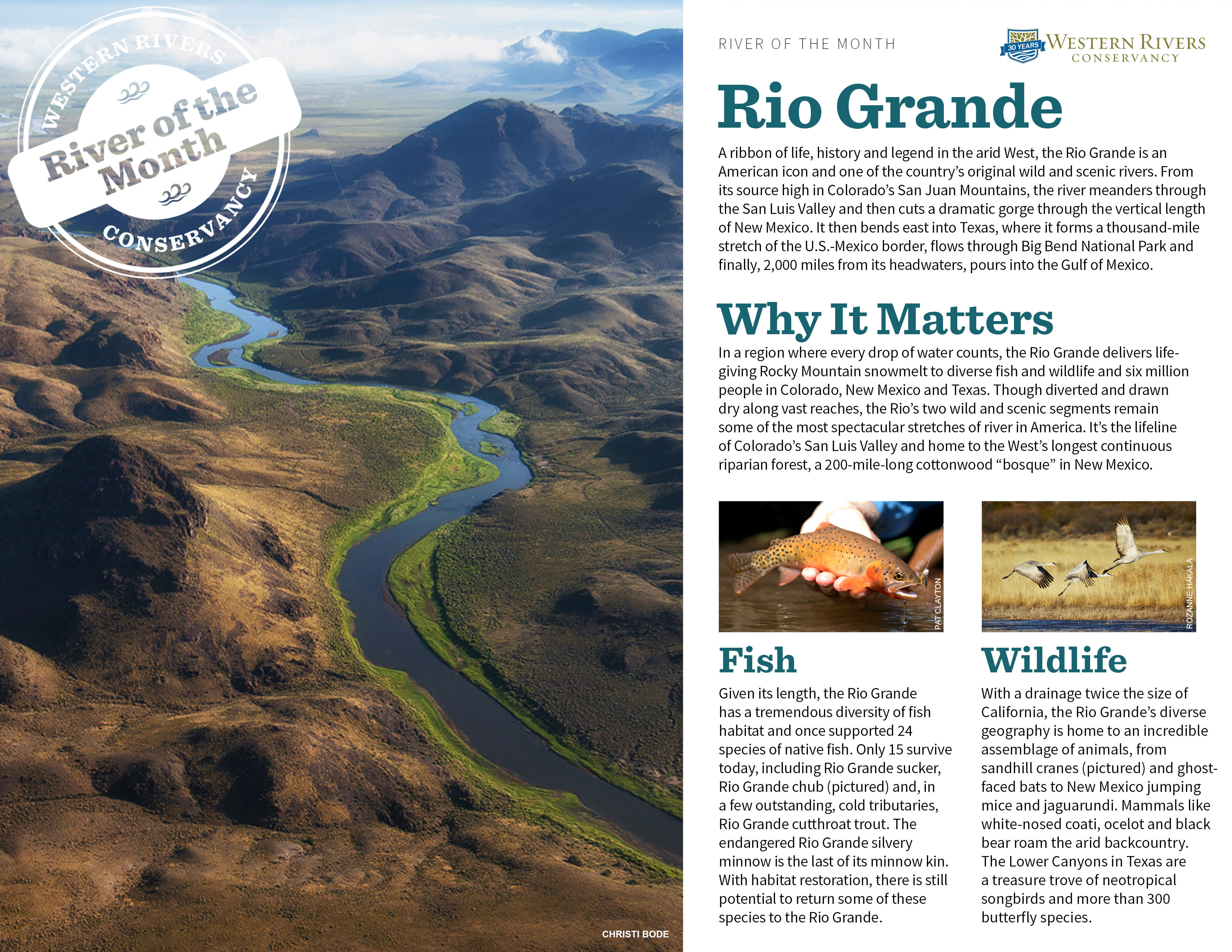 Fish
Given its length, the Rio Grande has a tremendous diversity of fish habitat and once supported 24 species of native fish. Only 15 survive today, including Rio Grande sucker, Rio Grande chub and, in a few outstanding, cold tributaries, Rio Grande cutthroat trout (pictured). The endangered Rio Grande silvery minnow is the last of its minnow kin. With habitat restoration, there is still potential to return some of these species to the Rio Grande.
Wildlife
With a drainage twice the size of California, the Rio Grande's diverse geography is home to an incredible assemblage of animals, from sandhill cranes (pictured) and ghost-faced bats to New Mexico jumping mice and jaguarundi. Mammals like white-nosed coati, ocelot and black bear roam the arid backcountry. The Lower Canyons in Texas are a treasure trove of neotropical songbirds and more than 300 butterfly species.
How to See It
Flowing through two National Monuments, a National Park and numerous wildlife and bird sanctuaries, the Rio Grande offers endless adventure. The Sandhill Crane Festival in Colorado's San Luis Valley should be on every birder's bucket list, and New Mexico's Rio Grande del Norte National Monument is a rafting paradise. Texas' Big Bend National Park is a lower-river highlight, and both the National Butterfly Center, in Mission, and Bentsen-Rio Grande Valley State Park offer world-class butterfly and bird viewing.

Paddle

Wild whitewater churns through 800-foot chasms in northern New Mexico, including the famous six-mile, Class V Upper Box run. Day trips on the Wild and Scenic Rio Chama (a major tributary) offer tamer rapids beneath gorgeous red-rock canyons. Downstream, a week-plus float immerses you in the Lower Canyons—one of the best ways to see Big Bend National Park.


Fish

The upper Rio may be Colorado's best-kept secret, with gold-medal trout fisheries on tributaries like the South Fork and Rio de Los Pinos. As it enters New Mexico, the Rio Grande Gorge offers dozens of miles of hike-in pocket water. The Wild and Scenic Red River, a key tributary, is a great destination for big rainbows, browns and cutbows in the spring. April brings a huge caddis hatch.

Hike

Take in the vistas of the Wild and Scenic Rio Grande Gorge by starting at the BLM's Wild Rivers Recreation Area, where hiking and mountain biking trails switchback into the canyon and lead to the confluence with the Red River. Trails abound in Big Bend National Park like Chimneys Trail, which leads to towering rock formations in the Chihuahuan Desert.
The WRC Story
At its source, the Rio Grande winds through the high San Luis Valley in Colorado, sustaining incredible bird life, diverse wildlife and long-standing family farms and ranches. The area has been the focus of WRC's efforts on the Rio Grande, where we are protecting vital habitat along the river and its top tributaries. As a result, new parks and protected areas now ensure a more hopeful future for fish and wildlife and connect people to the valley's rivers and streams.
In spring 2018, we cut the ribbon on the San Luis Hills State Wildlife Area, which features 17,019 acres along nearly five miles of the Rio Grande. On the opposite bank, we protected 1,168 acres on the Conejos River and Rio Grande. To the east, our acquisitions on the Rio de Los Pinos opened new access to excellent trout waters while fueling hopes that Rio Grande cutthroat may one day be reintroduced. Downstream, WRC is creating a new park for the city of Alamosa, while upstream we conserved 91 acres near Creede.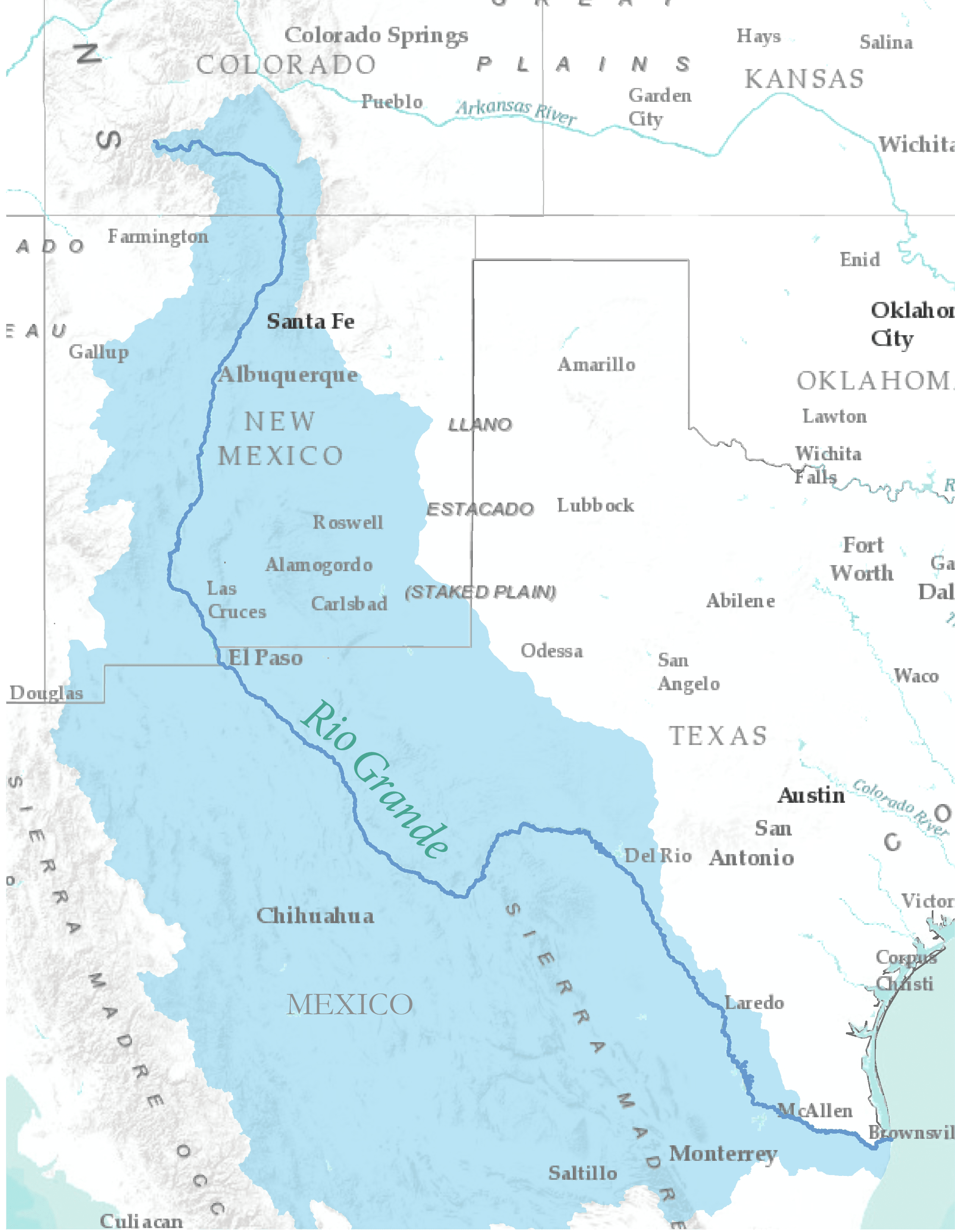 Best Time of Year
Fishing

Jun-Nov
Whitewater

May-Jul
Hiking

Year-round
Birding

Year-round
Butterflies

Fall
Go Deeper
Great River: The Rio Grande in North American History

(Paul Horgan)


Learn More

The Rio Grande Guidebook

(NRS)


Learn More

Havens for avians: Birding the picturesque San Luis Valley

(Pueblo Chieftan)


Learn More