Why It Matters
From its headwaters at Little Lava Lake to its confluence with the Columbia River, the Deschutes is one of the West Coast's most important rivers for native red-band rainbow trout, summer steelhead and fall chinook. Its insect populations, including its famed salmonfly hatch, are practically unmatched in the West, which is what makes it such an incredible producer of fish. Maintaining its fragile ecosystem, which is threatened by dams and warming water, is one of Oregon's top environmental priorities.
View the PDF
Did you know this page comes in a PDF format? Download it, print it, take it with you!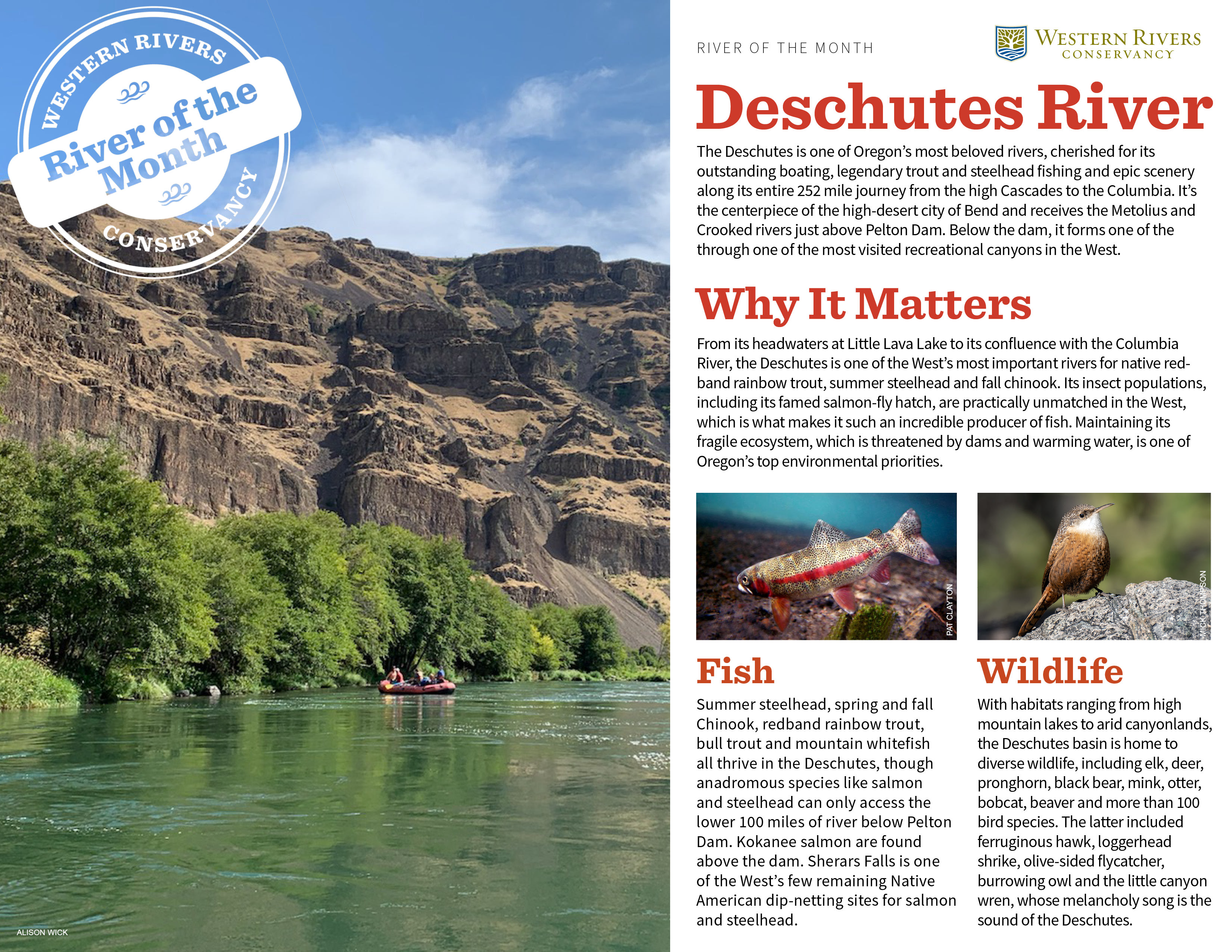 Fish
The Deschutes continues to support runs of summer steelhead, spring and fall Chinook, redband rainbow trout (pictured), bull trout and mountain whitefish, despite impacts from the Pelton Round Butte Dam Complex. Kokanee salmon are also found above the dams. Sherars Falls is still an active Native American dip netting site for salmon and steelhead.
Wildlife
With habitats ranging from high mountain lakes to arid canyonlands, the Deschutes basin is home to diverse wildlife, including elk, deer, pronghorn, black bear, mink, otter, bobcat, beaver and more than 100 bird species. The latter included ferruginous hawk, loggerhead shrike, olive-sided flycatcher, burrowing owl and the little canyon wren (pictured), whose lilting song is the sound of the Deschutes.
Hike

Paddle

Fish

"The D" (as it's affectionately known) is two rivers in one: the Upper D above the Pelton Round Butte Dam Complex, and the Lower D, below the dams. Trout fishing is great from top to bottom, and the Lower D is famed for its salmonfly hatch, which makes anglers as crazy as it does trout. The Lower D is also legendary for its once-outstanding steelhead run, as well as for beating up anglers with relentless winds, difficult wading, rattlesnakes and poison ivy. The beauty of the Deschutes is that public access is outstanding.
The WRC Story
Flowing from the Ochoco Mountains to the Deschutes River north of Madras, Trout Creek is one of the most productive steelhead streams in the Deschutes basin, but it suffers from low summer flows due to irrigation diversions. To improve those flows and protect 3.7 miles of Trout Creek, we purchased the 3,000-acre Trout Creek Ranch in 1999. A year later, we conveyed the ranch to Portland General Electric, which shared a community vision to keep the property undeveloped and restore habitat along this critical reach. In partnership with the Freshwater Trust, we also enabled the donation of the ranch's water rights to improve flows for fish. As a result of this project, and PGE's subsequent restoration efforts in partnership with the Confederated Tribes of Warm Springs, Trout Creek's spawning habitat has turned around, and it is once again contributing to the health of Deschutes River trout and steelhead populations.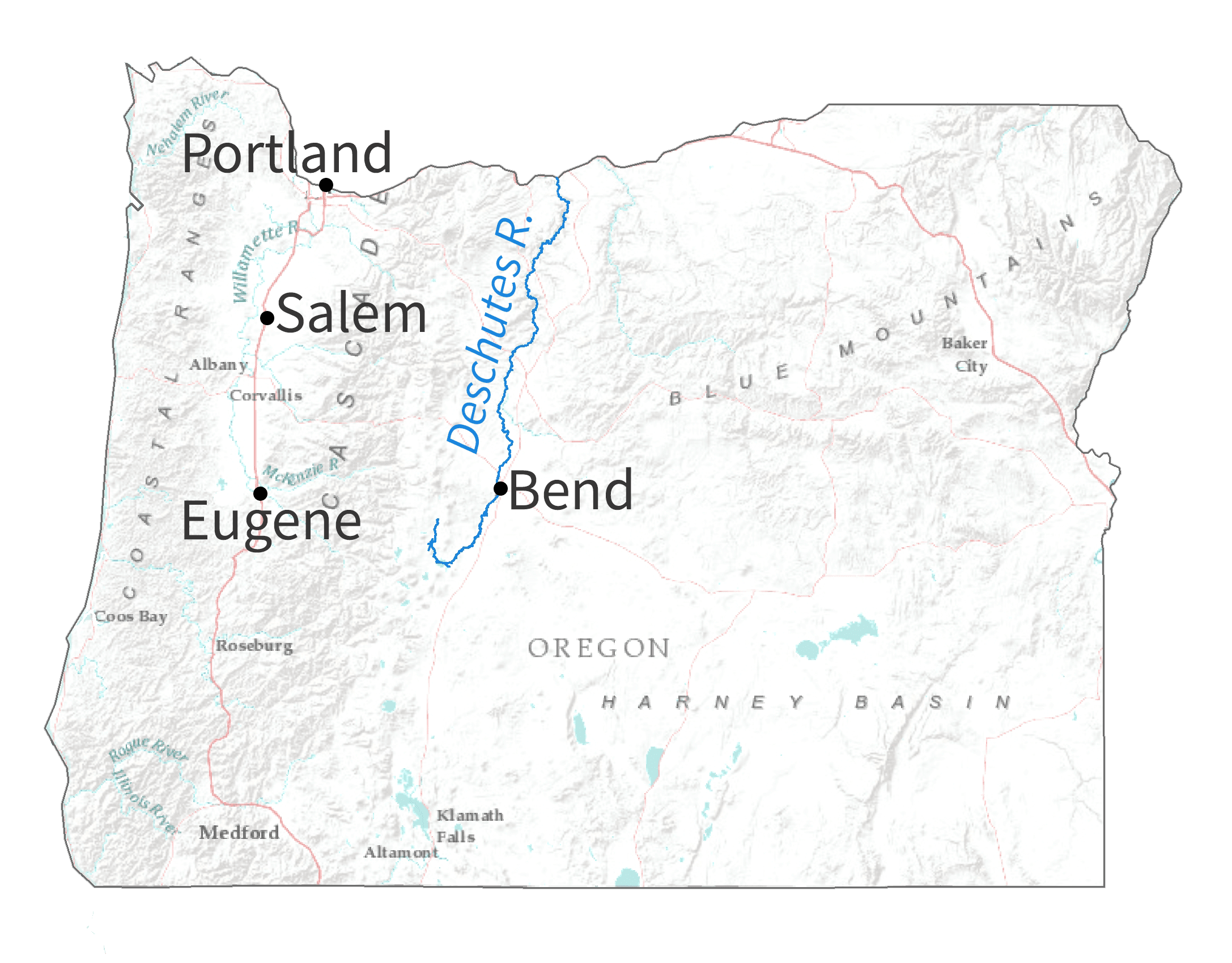 Best Time of Year
Trout fishing

May-Jul
Steelhead fishing

Jul-Oct
Boating

Summer
Hiking

Year-round
Go Deeper
Indigenous People of the Deschutes River Area

(Confederated Tribes of Warm Springs)


Learn More

The Deschutes River Railroad War

(Buy Online)


Learn More

Central Oregon: Adaptation and Compromise in an Arid Landscape

(The Oregon History Project)


Learn More