The 15 Best Books About Rivers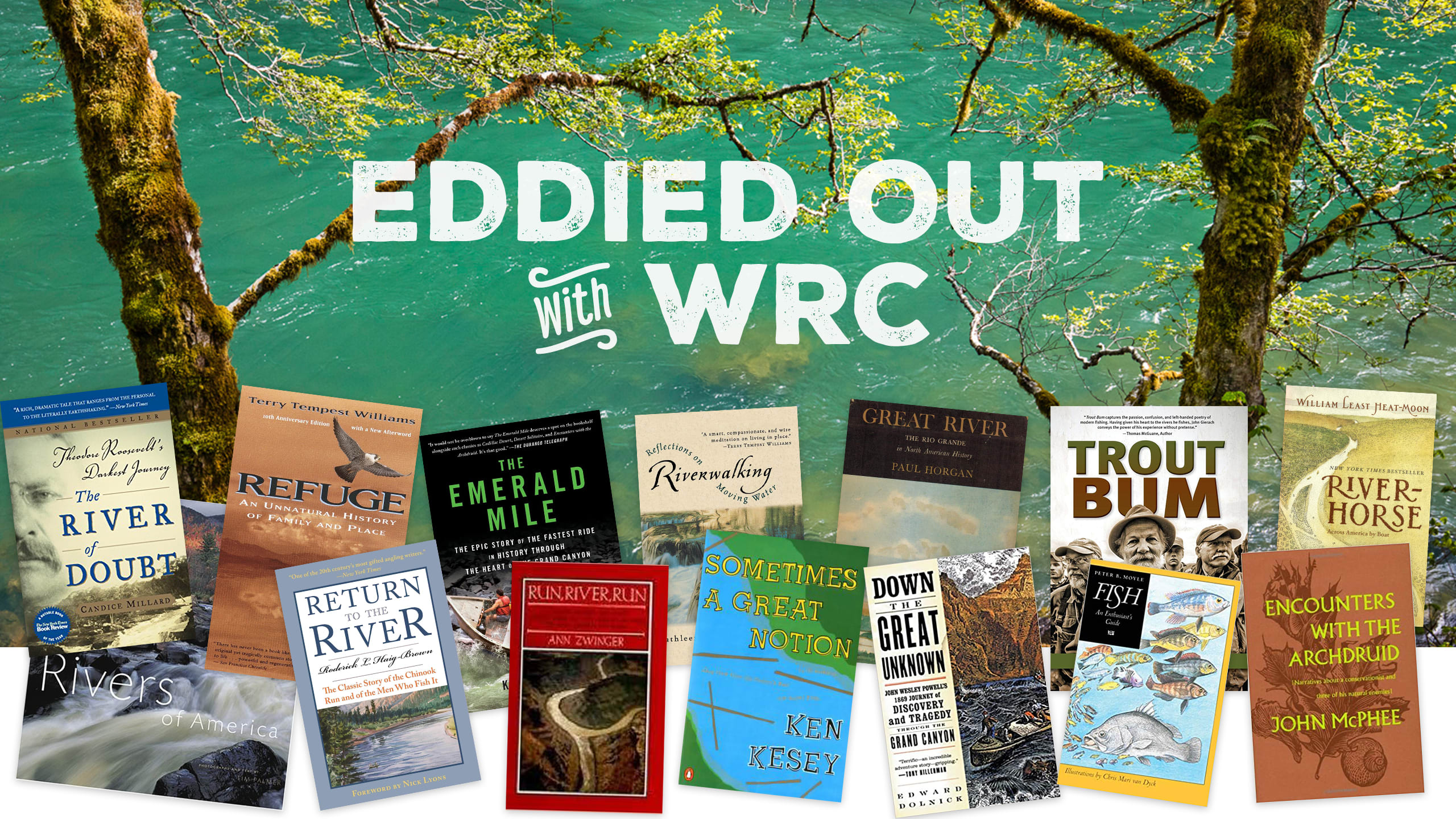 RIVERS ARE THE CENTERPIECES of some of the greatest stories ever told, and some of the most epic adventures ever chronicled. To make a list of great river books, we polled our staff, friends and family about their favorites—there are so many!—and culled it down to these must-reads.
These books inspire, educate and excite us. Inside their covers, you'll ride the rapids with explorers down the Grand Canyon, tie flies with a trout bum, and swim upriver from the viewpoint of a Chinook salmon.
We hope these titles transport you and give you a greater sense of wonder and connection next time you're out on the river.
The Emerald Mile: The Epic Story of the Fastest Ride in History Through the Heart of the Grand Canyon
by Kevin Fedarko (2014)
Climb into the fabled wooden dory, the Emerald Mile, as this thrill-packed page turner takes you alongside three adventurers who, against all odds, paddled through the tumultuous Grand Canyon during the epic 1983 flood of the Colorado River, making the fastest float through the canyon ever.
The River of Doubt: Theodore Roosevelt's Darkest Journey
by Candice Millard (2006)
Humiliated after his defeat in the election of 1912, Teddy Roosevelt took on the most harrowing challenge he could find: navigating the depths of the Amazon jungle on an unmapped tributary to the Amazon River. This nonfiction thriller and bestseller follows the popular president as he and his companions faced the greatest challenges of their lives.
Sometimes a Great Notion
by Ken Kesey (1964)
Widely considered to be Kesey's masterpiece, this classic novel (later adapted into a Hollywood movie) tells the tale of a hard-headed Oregon logging family that defies a strike and continues to log trees along the fictional Wakonda River. The family's conflicts reach a boiling point as the river encroaches on their property and tests the obstinate resolve of patriarch Henry Stamper.
Encounters with the Archdruid
by John McPhee (1971)
It doesn't get much better than David Brower and Floyd Dominy—a pioneering environmentalist and a mega-dam builder—rafting side-by-side down the Colorado River, debating the virtues and perils of dams when they're not paddling the rapids. By their side is John McPhee, who masterfully records Brower's conversations with Dominy and others in this seminal work of environmental journalism.
Rivers of America
by Tim Palmer (2006)
Take in this visual feast of American rivers—from iconic waterways to isolated gems—as viewed from the lens of the photographer and author who knows them most intimately, Tim Palmer. Tim is a longtime friend and supporter of WRC (and host of our Great Rivers of the West web series), and this gorgeous volume promises to delight and inform.
Riverwalking: Reflections on Moving Water
by Kathleen Dean Moore (1996)
As a writer, environmentalist and former Oregon State University philosophy professor, Kathleen Dean Moore views rivers through a unique and poetic lens. In Riverwalking, Moore uses rivers as the theme, her essays seamlessly weaving together stories of rafting, fishing and camping with musings on love, loss and family.

Trout Bum
by John Gierach (1988)
Packed with witty stories and insights on fly fishing—and life in general—Trout Bum is a humorous must-read for beginner and seasoned trout anglers alike. This book is welcome company on any river trip, but it will connect you to the thrill of chasing trout no matter where you are.
The River Why
by David James Duncan (1983)
A classic coming-of-age novel, this book follows young fly fisherman Gus Orviston on his pursuit of elusive Pacific Northwest steelhead. Both comedic and deeply moving, The River Why is, at its heart, a vibrant tale about our connection to nature and one another.
Return to the River: The Classic Story of the Chinook Run and of the Men Who Fish It
by Roderick L. Haig-Brown (1941)
Pick up any book by this author and conservationist and you'll be captivated. That's especially true about Return to the River, one of the finest reads out there about salmon and its anadromous life cycle. You'll never look at a fish the same way again after this story, which is told in detail from the perspective of a Chinook salmon.
Refuge: An Unnatural History of Family and Place
by Terry Tempest Williams (1991)
An environmental classic, this poignant memoir about tragedy and renewal weaves together the story of Williams' mother battling cancer in 1983, concurrent with floods that threaten the Bear River Migratory Bird Refuge on the Great Salt Lake (a refuge that WRC has helped expand).
Great River: The Rio Grande in North American History
by Paul Hogan (1954)
Winner of the Pulitzer Prize for history, this monumental piece of writing dives deep into the history of the Rio Grande and the people who have inhabited—and harnessed—its waters over the past 1,000 years to the modern age. WRC has worked extensively on the upper Rio Grande.
Fish: An Enthusiast's Guide
by Peter B. Moyle (1995)
Reading this book is like taking a master class on fisheries biology from California's preeminent professor on the subject. Moyle's signature humor, along beautiful illustrations by Chris Mari van Dyck, make for an easy and delightful read. A longtime friend of WRC, Moyle was a WRC board member for nine years and is the recent recipient of Fly Fisherman magazine's 2020 Conservationist of the Year award.
Run, River, Run: A Naturalist's Journey Down One of the Great Rivers of the West
by Ann Zwinger (1984)
When you can't be on or near a river, reading about one from the perspective of hyper-observant naturalist Ann Zwinger is the next best thing. Run, River, Run takes you on a vivid journey down the entire length of the Green River, from southern Wyoming to northeastern Utah, in what Edward Abbey deemed the "standard reference work on this part of the American West for many years to come."
Down the Great Unknown: John Wesley Powell's 1869 Journey of Discovery and Tragedy Through the Grand Canyon
by Edward Dolnick (2001)
"We are now ready to start on our way down the Great Unknown…" wrote John Wesley Powell in 1869 as he, with only one arm, joined nine others to boat the unchartered waters of the Colorado River through the Grand Canyon, the West's last great mystery. A fantastic read for history buffs and river-lovers alike.
River-Horse: The Logbook of a Boat Across America
by William Least Heat-Moon (2001)
You'll be along for an adventurous ride as the author launches a 22-foot flat-bottom boat called Nikawa (or river horse in Osage) and attempts to travel 5,000 watery miles from New York Harbor to the Pacific Ocean near Astoria. Along the way, he and his companions face many perils but also witness how river protection across America is working, and that we need more of it.
Take a deeper dive into rivers with these other new and classic titles:
P.S.: If you buy any of these books on Amazon, be sure to choose WRC as your AmazonSmile charitable organization, and it will donate a portion of your purchases to WRC every time you shop.